Bus driver: Man of many talents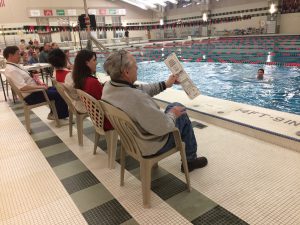 Fletcher Graham judgues junior diver Reid Godbey.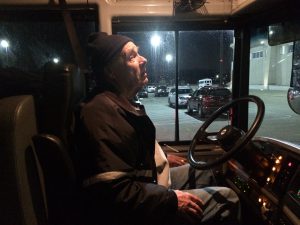 After offficiating Fletcher Graham has a quick turn around to drive the team home.
Last night the boys swim team dominated at Lawrence North in a dual meet. But this was hardly the story of the night.
After the official did not show up for the meet, bus driver Fletcher Graham stepped up to fill this role.
"I was honored because the people who called me into action knew my history and knew that I could do what I had to do," Graham said.
Fletcher has officiated since 1977 with jobs ranging from club swimming to Olympic trials.
"I have officiated two Olympic trials, Big Ten championships, Conference USA, Big East, and D1 championships," Graham said.
Recently Graham has been officiating D3 swim meets at Ball State. Not only does he officiate but he sings the national anthem before the meets. This does not come as a surprise considering Graham has been singing at St. Luke Methodist Church since 1973.
St. Luke is a special place for Graham considering after he received his masters from Geneva College in divinity he was a minister at St. Luke from 1969-71.
"I do baptism poolside whenever," Graham said.
In the little free time he has, Graham spends his time enjoying water sports. He has served as a whitewater canoe instructor and whitewater racing official. On top of that, he has been a real estate appraiser since 1974. He remains driving buses for Washington Township and is one of the most talented bus drivers not only in our district but also in the state.
"In 2004 I was the Indiana state champion in the school bus rodeo, skills test at driving busses, and went on to compete in Philadelphia," Graham said.
Fletcher Graham has been my bus driver ever since the first time I got on a bus in kindergarten. I can honestly say he is one of the most kind, passionate, and interesting men I have ever met. He takes his time to not only take students to their destination but get to know them and build relationships with them. After everything he has accomplished and experienced he isn't finished yet.
"I still don't know what I want to be when I grow up and I am 74-years-old," Graham said.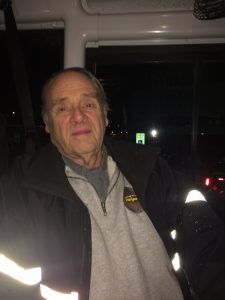 Fletcher Graham had no problem officiating "Mentally it's almost second nature."