Summer Job Fair provides future career opportunities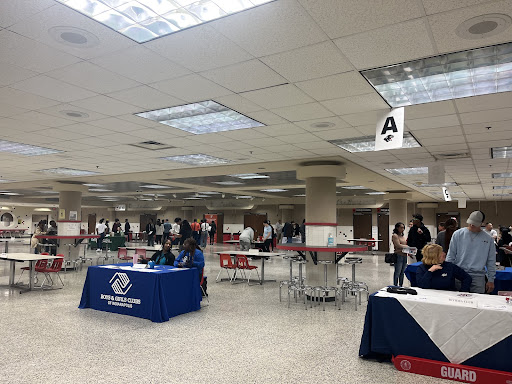 On Tuesday, NC hosted a Summer Job Fair at 6 p.m. in the cafeteria. The Summer Job Fair was open to all students and members of the community. People went to the fair to meet with different employers and learn about different career paths. 
The Work-Based Learning program began last year at NC after being exclusively at JEL Career Center. Coordinators Charlene Williams and Shannon Fowler work to help students explore job opportunities and future careers. 
"It has been really fun for me as I like working with students and seeing how we can give them tools that will help them look toward their future and experiences that will allow them to make really good career decisions," Williams said.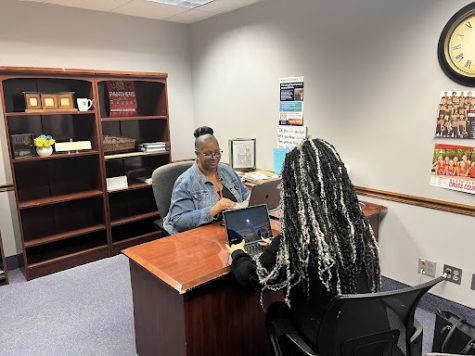 In 2022, NC hosted one job and career fair but this year, they decided to set up two separate fairs. The Summer Job Fair was April 18 while the Career and Opportunities fair is April 27 at 6 p.m. in the cafeteria.
"Last year we had a combined career fair and we found that the younger students who really weren't eligible for some of the jobs kinda were going around the tables and kept getting 'no you have to be 18' and possibly didn't get to the employers who were able to hire them, so we thought it would be a great idea if we separated the two so our younger students can have a more engaging experience and now would be in front of employers that are able to hire them," Williams said. 
The Summer Job Fair was a place for students to talk to over 20 employers about part-time jobs, summer jobs and internships. Some of the employers include Carmel Clay Parks & Recreation, Ed Martin Automotive, Jordan YMCA, PepsiCo, The Children's Museum of Indianapolis and The Riviera Club. 
"Even if you aren't looking for a job, it is a good networking opportunity. I think dressing the part, having a resume, shaking someone's hand, giving eye contact, and even sometimes asking them what they do and how did they get into this career could just be an opportunity, it may not be to get a job, but to just network with employers," Williams said. 
Freshman Dominica Dandelet Vento went to the Summer Job Fair hoping to find a summer job so she can save money for college. 
"They were very helpful and informative and their employers told us about different locations and what it was like to work at their job. I recommend students come to see what job opportunities are available and a good fit," Dandelet Vento said. 
The Work-Based Learning program's goal is to make sure students have work experience, and the Summer Job Fair was hosted so students could find summer jobs that do not mix with their busy schedules during the school year.