NC hosts Charlie Riley Invitational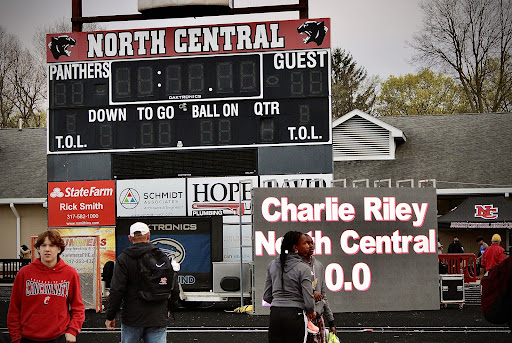 On April 21, NC hosted the Charlie Riley Track and Field Invitational. This has been an annual tradition for over 50 years. Schools from all around the state came to compete and the competition was high. There were a total of nine schools in the meet; North Central, Arsenal Technical, Ben Davis, Brebeuf Jesuit, Brownsburg, Cathedral, Fishers, Hamilton Southeastern, Heritage Christian, and Marion (girls only).
Many NC runners had extraordinary performances at the meet, including junior Christian Woodson, who got first place in both the 100 and 200 meter races. In the 100 meter, Woodson ran his personal record (PR) with a 10.93, and he won the 200 meter with another PR of 21.99.
"I just wanted to get a good race and then run my own race," Woodson said.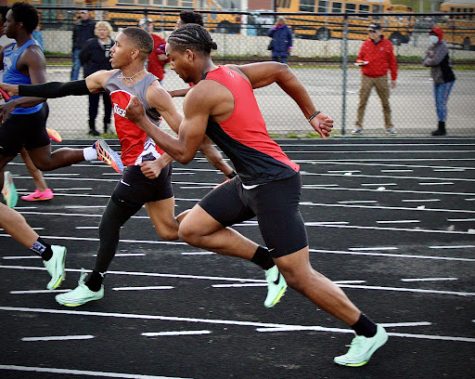 Sophomore Denhm Holt also had an excellent performance this race. He ran a PR of 50.41 to win the 400 meter race. He beat multiple juniors and seniors from top-ranked schools and showed his promising future for NC track.
"I competed against the runner from Fishers last race and lost, so I came out this time determined to beat him and win the race," Holt said.    
Many of the girls also placed well, including seniors Emma Vatnsdal, Mary Edwards, Janae Bailey and junior Maddie Rocchio, who all came in second in their races. Bailey ran the 400 meter, Vatnsdal ran the 800 meter, Edwards ran the 1600 meter, and Rocchio ran the 3200 meter. The girls team put up a strong showing across the board, proving that they are there to compete and put out a strong showing for this season. 
"My goal going into this meet was to get second in the 3200 meter and do the best that I can in the 4×800 relay," Rocchio said. 
Many of our runners placed in the top five for different races and ran their PRs. 
Starting off with the boys 100 meters, Woodson came first. Sophomore Isaac Canady got a PR with 11:46 and so did sophomore Xzavion Brooks with 11:58. Many runners ran the PR in the meet and took time to prepare.
"To prepare for this meet we had to focus on staying healthy and get our fundamentals right," Brooks said.
In the 200 meter, Woodson won again. Junior Gabe Rivera and sophomore Caleb Rienstra-Kiracofe got PRs with 23.53 and 23.88.
Holt won first place in the 400 meter. Sophomore Korbin Butz got fifth with a PR of 51.71 and junior Korren Mason had a PR of 51.93.
Senior Nate Killeen got first in the 800, with his best time this season with 1:55.72. Alec Heufftle got fifth with a PR of 1:59.99.
In the 1600 meter race, sophomore Niall Gillen got a PR of 4:58.69.                                                                             
Next in the 3200 meters, Killeen got second place and ran his season record of 9:40.77. Junior Emmett Tuason got fifth with a PR of 10:00.26.
For the 110 meter hurdles, junior Will Hamstra, sophomore Kaden Sellars, and senior Elijah Mack all ran their PRs with 18.42, 19.33 and 20.03. 
For the 300 meter hurdles Smith Antonio got third and his PR with 41.51. Hamstra ran a PR of 44.24. Jayden Hines also PRed with 44.46. 
The Panthers did well overall on the relay events. Canady, Woodson, Smith and Rivera all participated in the 4×100 relay and got second with a final time of 42.92. They were trying to put up their best times to show they could perform well in the sectional tournament. 
"We are all trying to get PRs so that we can get out of sectionals," junior Gabe Rivera said.
In the 4×400 relay Dehnm Holt, Korbin Butz, Jeremiah Timberlake, and Korren Mason got 3rd place and ran a 3:31.51. 
All of the boys runners continue to show improvement as they strive for new PRs every race and train hard everyday.
Next they moved on to the field events. Starting off with shot put. Solomon Masseka got 4th by throwing a PR of 48' 3.5". Kaden Edwards also threw a PR with 45' 10.5". 
In the discus event, Kaden Edwards got 5th place and PRed with 147' 0". Kaleb McClendon (pr: 132' 9") Nathaniel Williams-Powell (114' 4")
For the high jump Lee Martin placed  3rd, jumping a PR of 6'2". Darion Highbaugh jumped a PR of 5'8" and Emmanuel Brooks also jumped a PR of 5'6". 
"I enjoy this meet because it is really big with a lot of different schools that all come to North Central to compete against each other. This creates an exciting and loud environment with all of your teammates cheering you on," sophomore Darion Highbaugh said.
Connor Langsford got 5th for pole vault with his PR of 12'6" and Steve Garrett PRed in long jump with 17' 7.75". 
Next up is the girls results, starting off with the 100 meter race. Cassity Jones and Gabrielle Moore both got PRs in this race with 12.75 and 13.15. 
Kamiah Hunt got a PR in the 200 meter with 28.26. 
In the 400 meter Janae Bailey came 2nd with 58.80 and Nya Malott ran a PR of 1:03.82.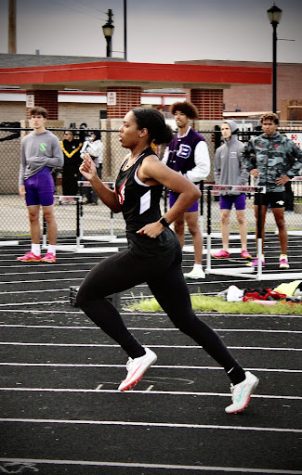 Emma Vatnsdal got 2nd in the 800 meter race, she had a season record of 2:23.23. Kaelina Matthews had a PR of 2:27.19 and Elizabeth Rocchio also had a PR of 2:27.57. 
Then in the 1600 meter Mary Edwards came 2nd and ran a PR of 5:11.55. Kaelina Matthews came 3rd with a PR of 5:20.68 and Samrawit Tezera ran a PR of 5:31.62. 
"There are a lot of really good schools who came to compete against us and there are both girls and boys at the meet which makes it special," junior Sami Tezera said.
Maddie Rocchio got 2nd place in the 3200 meter by running her PR of 11:25.21. Mary Edwards got 4th with a PR of 11:35.93, and Sophia Tipmore ran a PR of 11:57.05. 
Next were the girls hurdle events. Starting off with the 100 meters. Ruby Rogers ran a PR of 17.74 and Milo Smith had a PR of 17.80.
In the 300 meter hurdles Ruby Rogers, Milo Smith, and Gabrielle Moore all PRed with times of 49.71, 50.21, and 52.66. 
The girls also did really well in the relay races. Janae Bailey, Kamiah Hunt, Cassity Jones, and Gabrielle Moore ran in the 4×100 and came 2nd with 49.25. 
The 4×400 relay came 5th with a 4:10:89. Janae Bailey, Athena Dixon, Nya Malott, and Cassity Jones all participated in the 4×400.