Students run to support local charity organization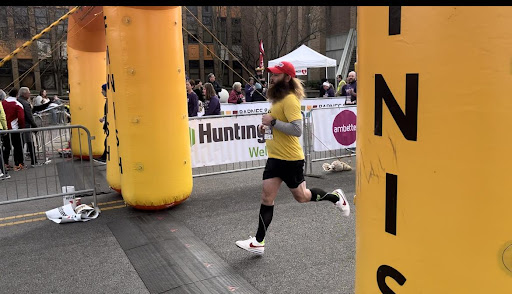 This Thanksgiving, the Wheeler Mission Drumstick Dash hosted its 20th annual race in Broad Ripple.
The Wheeler Mission is a social-service organization that provides aid to those experiencing homelessness, poverty and are in need within the central and south central areas of the state.
Since its inception in 2002, the Wheeler Mission's Drumstick Dash has had the tagline "Move Your Feet So Others Can Eat." 100% of the proceeds raised by the Drumstick Dash go to support the Wheeler Mission.
This year, $96,861 was raised and approximately 15,000 people attended.
Being close to the NC area, many students who were in town over the Thanksgiving break attended the race. Juniors Madeline Prible and Riley Sherman were both present.
Prible, who ran the 2.45 mile course, has been attending the Drumstick Dash for years. The race is one of her Thanksgiving traditions.
Sherman ran the 4.5 mile course, and has been running the Drumstick Dash with his family for 14 years.
Although running the course by itself is fulfilling, both Prible and Sherman find running for a cause even more special.
"I would do it without that, but it's an extra thing to make you feel good about doing it," Sherman said.
From runners in funny costumes to dogs cheering people on, bonfires in the neighborhoods along the course to live music at the start line, the Drumstick Dash is fun for all involved. Each aspect helps make the race a memorable one.
Prible always looks forward to the snacks and drinks that await the runners at the finish line.
"My favorite part is always the chocolate milk at the end," Prible said.
The race also acts as a space for memorable family bonding, an aspect that is important to Sherman.
"I like doing it with my family. This year, I ran with my brother and his girlfriend," Sherman said.
Prible and Sherman both agree that having the race on Thanksgiving is impactful, for it can brighten their moods and make room in their appetites for a traditional Thanksgiving meal. They recommend anyone who stays in town over Thanksgiving to sign up to run.
"It'll make you feel good the rest of the day because you get the runners high," Prible said.
"It offsets all the things you are going to eat later in the day," Sherman said.
The Drumstick Dash will return to Broad Ripple for its 21st year on Thanksgiving Day 2023, with hopes of exceeding this year's attendance, fundraising and enjoyment.