Performing arts season wraps up with ISSMA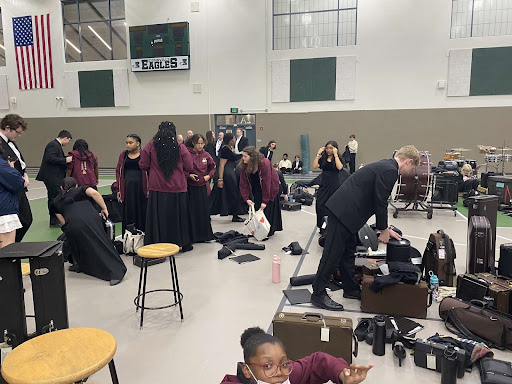 This past weekend, five of NC's performing arts groups- Symphony Orchestra, Wind Ensemble, Descants, Counterpoints and King's Court- competed in the ISSMA qualification. All five groups made it forward to the state competition this weekend at Lawrence Central. 
ISSMA is a prestigious state-run competition. 
"ISSMA is a well-respected competition, there are lots of awards for it throughout the music department," Miah Paraskevas, a sophomore in Symphony Orchestra, said. 
NC has a good track record of success in past competitions. This year is NCSOs 35th time qualifying for state. 
"Our performance started off iffy but we pulled through and became one of two schools that had five different groups to qualify for finals," Paraskevas said.
This year brought the groups closer together. 
"I think the Wind Ensemble is definitely a family. I have definitely built stronger and newer relationships being in Wind Ensemble," Shana Westbrook, a sophomore in Wind Ensemble, said. 
Since the season is coming to an end, it is the seniors' final performances. 
"It's sad to see the seniors leaving next year and orchestra will not be the same without them," Jahnu Hutte, a sophomore in Symphony Orchestra, said. 
ISMAA is the last competition, and the seasons will be over after it. 
"A lot of the seniors are integral to our music and the wind ensemble in general. So seeing the seniors leave will be very sad because they are such great people and musicians," Ryan Jacobi, a sophomore in Wind Ensemble, said.