Juniors discuss new parking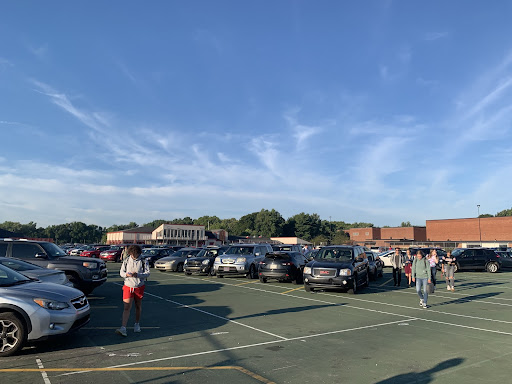 Starting this school year, construction is affecting the convenience and location of student parking. Seniors can park in the senior lot, but juniors are forced to park on the tennis courts and walk through the back of the school to enter the building.
By simply walking through the makeshift parking lot, one can tell that the spaces are extremely close together. Many consider this to be inconvenient and potentially dangerous. 
"It sucks trying to find a parking spot unless you get there crazy early and leaving is a mess. Everybody cuts each other off and there is no organization. It's very messy," junior Kimberly LaCava said.
Student drivers, especially new drivers, may be dangerous in a situation like this. They are forced to park at a diagonal in places that are both very narrow and very close to the cars in the rows around them. This may cause drivers to cut in front of each other, making for a more hazardous environment.
Many seniors can shrug off this inconvenience, however the parking situation for juniors is making them unhappy. 
Junior Layku Wah started driving this year, and said "It's OK, but it would definitely be better if it was an actual parking lot. I would rather park in the senior parking lot." 
It would be easier to get into the building from the old junior parking lot, which was right by the senior one, but now juniors must park farther away. 
After doing the walk from the tennis courts to the school this morning, I left the car at 8:21 a.m. and entered the school at 8:27 a.m.. When I go inside from the parking lot which is reserved for seniors with Senior Honor Code, it takes me no longer than three minutes. A three minute difference may not seem like a lot, but when students are running behind and it is hard to find a spot, this difference could be the difference between being on time or late to class. 
The junior parking spots this year are certainly not ideal, but it is not changing as far as we know so the situation is the best as it is going to be. The best thing that juniors can do for now is wait until next year when they are eligible for Senior Honor Code themselves.
Leave a Comment
Your donation will support the student journalists of North Central High School. Your contribution will allow us to purchase equipment and cover our annual website hosting costs. Thank you for your support!
About the Contributor
Abel Flessner
Abel Flessner is in 10th grade and this is his first year involved in journalism. Outside of class he does cross country and plays baseball.