New Illumine Coffee Co. cafe opens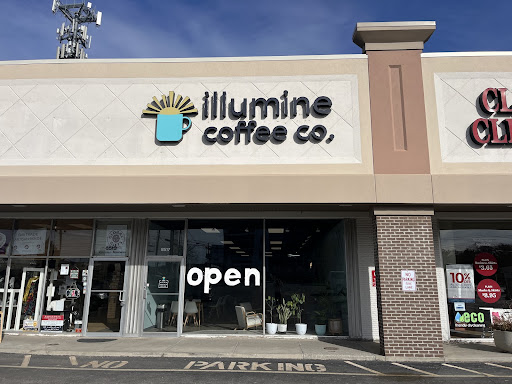 A new coffee shop, Illumine Coffee Co., opened near NC on February 18. It is located at 8517 Westfield Blvd. The coffee shop is open from 7 a.m. to 5 p.m. Monday through Friday, and 8 a.m. to 5 p.m. on Saturdays. 
Illumine was founded by Kent and Anna Phillips. It started out as only a coffee roaster in 2021, selling to different farmer's markets, coffee shops and through their website. In July 2022, as they started to sell coffee at the Broad Ripple Art Center, they began to build their cafe in Nora. 
"It was always in the back of my mind. My wife, Anna, we love going to independent coffee shops as we travel. If we go to New York, or we used to live in LA, we like to find really cool independent coffee shops so over the years we thought, wouldn't it be fun if we could open one and here we are," Kent Phillips said. 
Kent Phillips has not always wanted to sell coffee, but he did roast his own coffee at home for over ten years. It was not until 2020, when he changed career paths to begin a coffee company. 
"In the middle of COVID and fall 2020, when everybody was at home thinking about what they were doing with their lives, I was like, 'You know what I really want to do, I want to start a coffee company.' So we bought a commercial roaster and started practicing and then, in the next summer, we became an official company," Kent Phillips said. 
The cafe sells multiple types of coffee, teas, unique drinks, pastries and roasts for home. In the cafe, there are lots of tables and comfortable seating available for customers. 
"My favorite part about the cafe is seeing people come in and relax and enjoy the space, or catch up with a friend or sit quietly and read a book or work on school to work. I have enjoyed creating a space where people can relax and do what they do," Kent Phillips said. 
The company looked in many communities at many places for their cafe, but they chose the location at Nora for a reason. 
"We are really excited, we purposely picked this community and this area because there aren't any local, independent coffee shops in this area and we love being close to North Central and the apartments across the street and Northview," Kent Phillips said. 
On the way to school, many students became curious about the coffee shop when they passed it on Westfield.
"I am planning on going to Illumine Coffee because I pass it to school everyday. My favorite place to go for coffee right now is Lulu's but trying new things can be good," sophomore Mia Schaffer said. 
Spanish teacher Megan Casey frequents small, local coffee shops every weekend. When she saw the 'open soon' sign on the window while driving on Westfield, she added it to her list of coffee shops to visit. 
"I enjoyed it so much that my first time there I got two coffees, one hot and one iced. I have also tried two different croissants. The atmosphere is just very calm and enjoyable and there is a lot of space which is important," Casey said. 
Although the Phillips are very busy roasting and selling coffee in the new cafe as well as other coffee shops, churches, businesses and coworking spaces, they believe the cafe has been successful since opening in February. 
"As a company, we care deeply about people and we care deeply about making quality coffee, and so we feel like we can care for people by providing them with a great product. I think that is why people would enjoy coming because they feel less like a commodity and more someone we want to welcome in and become part of the family."