Girls wrestler prepares for post season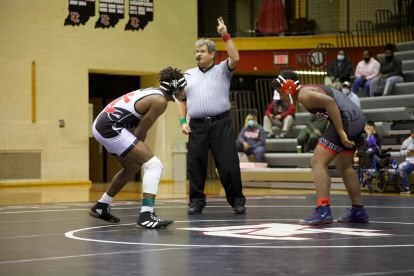 The NC wrestling team beat Lawrence North 54-24 last Saturday. This brings their season record up to 16-9. 
The Panthers have had a winning season so far, scoring 132 points throughout the Marion County championship tournament and placing fourth.Senior Kasidy Schenk is a varsity wrestler at NC. Schenk is on her seventh season of wrestling, four of those being at NC. 
"I first started wrestling in fifth grade when my parents signed my brother up for wrestling and not me," Schenk said. 
Schenk continued wrestling through middle school and into high school. 
"It was scary as a freshman because there were no girls, but everybody was super kind and would invite me to everything. It was just intimidating at first," Schenk said. 
The number of female wrestlers has grown since Schenk's freshman year. This year Coco Nate, one of NC's female wrestlers, placed 7th in state. 
"Everybody is included, they talk to you a ton. A little more sometimes than you would normally like. If you see each other in the hallway you always say 'Hi'," Schenk said. 
Schenk describes the environment of the team as super funny and nice. Much of her spare time is put into wrestling so it is important that she enjoys the environment. 
"We have a ton of people who are dropping like ten pounds a day, it is very hard on them. They can't drink water, they can't eat," Schenk said. 
Schenk personally needs to gain weight. That might be easier on the body but is not as effective on the mat. 
"When you lose that weight that you want to get to for a weight class you are much more fit and stronger. You do much better in a weight class when you drop that weight," Schenk said.