Homecoming queen and king recap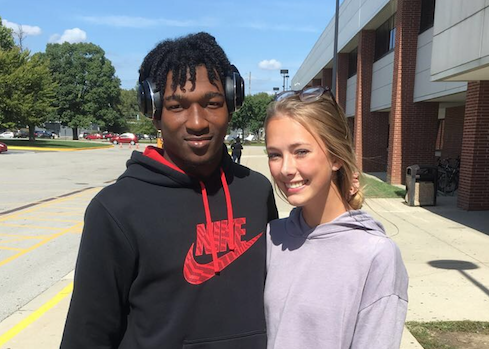 Homecoming king and queen are coveted positions. This year, two seniors were crowned at the homecoming dance. Jordan Bingham, wide receiver for the football team, was named king. Emily Spears, editor of yearbook, was named queen.
The court has five people eligible for each gender after initial school wide nominations. Voting is open to all attendees at the dance, where one bead is placed into box with the individual's name on it, counting as one vote.
"I wasn't sure if I would win or not. I felt like I had a shot because I have a lot of friends in all of the grades because of my cross country team. Once I got there though, I saw how many people were there, and saw how many people I didn't know, so I didn't think I would win," Spears said.
Each member of the court had to attend the dance and wear a sash reading "Homecoming Court," but outfit options were up to the nominees.
"I wore an all black shirt and black slacks, with black woven velvet loafers and a silver chain," Bingham said.
For girls, a variety of dresses, pant suits and other semi-formal clothing was worn.
"I wore a sequined green, kind of turquoise colored dress that I borrowed from one of my best friends. I was really excited to wear that dress because it was so fun and so unlike anything I had seen or worn before," Spears said.
Student council runs the homecoming dance and council member Josh Gerstein announced the winners at the end of the evening.
"The feeling out of 10 when I heard my name was 11. I was humble at first, then me and my guys turned it up," Bingham said.
The queen was announced after king.
"I couldn't believe it, when Josh called my name it really didn't even register to me that I had won," Spears said.
After the names were called, the king and queen posed for photos and were given the crowns.
"I had no clue who would win for guys. Once they called us up at the end of the dance and introduced each court member I knew Jordan would win based off of the crowd's reaction. Jordan is really nice and cool so it was definitely well deserved," Spears said.