Player Spotlight: Carly Page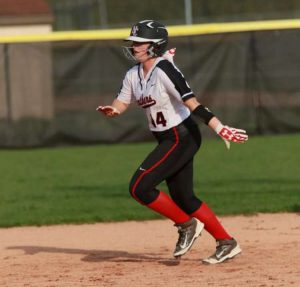 Junior Carly Page thrives on being the leader of varsity softball and has plenty of goals for her final two seasons.
Page has been playing softball since she was two years old thanks to her father who has played a great role throughout her career and has helped her ever since.
"I love to play thanks to my dad because he has played a big role in every team I have played for," Page said. "He is my biggest support system."
Being the captain is fun for Page, but can also present a bit of fear She will play a large role in the success of the team this season.
"It is so fun being the captain but sometimes It can be intimidating with the seniors," Page said.
"I am hoping I can help lead the pitchers to success as well as guiding the team to learn to work as a team."
In order to get to this point with regard to being the captain for the team she has had to learn to stay composed when she makes mistakes as well as feeding off her teammates positive energy.
"I just can't get down when I make a mistake and I have to set a positive example for everyone else on the team," Page said. "It is great having a whole field of girls ready to back me up and I have to do the same for them."
Page had a quality sophomore season last year with 40 RBI's, four home runs and nominated for the All-MIC team. Her goal for this season is to put up similar numbers to last year and attempt to make a run at a state title.