Annual Canned Food Drive Overview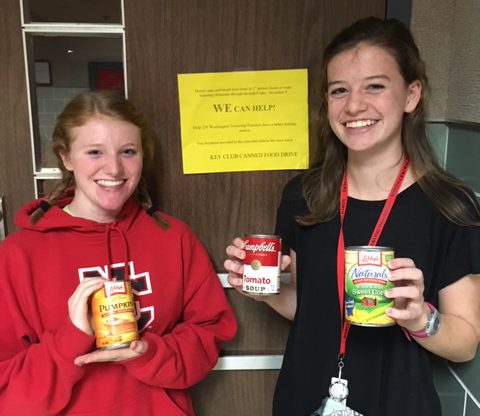 By Maddie Scarpone and Virginia Wilhelm
Key Club is a service organization that is a branch of Kiwanis for high schoolers. Every year NC Key Club runs the Canned Food Drive and helps All for Children out with Net Night and several other smaller projects throughout the year.
"Kiwanis is the main organization but Key Club is the high school version of it and we basically participate in service activities that help the community and helps those in need. It's a lot of fun," senior and member of Key Club Tristan Stone said.

The Canned Food Drive has been going on at NC for over 30 years. It was started to help our Washington Township families during the long winter break when kids cannot get their breakfast and lunch from the school.
"What a lot of people don't realize is that over winter break when kids aren't coming in getting free breakfast and lunch, they might not necessarily have food at their homes to be eating. The long winter break can be rough if they don't have food," Stone said.
Every year the Key Club feeds many families, distributing large grocery bags of donated goods. The can food drive allows students to help others in the township.
"Between 8,000 [cans] and the highest ever collected was 38,275 [cans] in 2012. After 2013, our partnership with Marsh ended and we have had about a third less collections annually," co-president of key club, senior Cleary Elder, said.
"Usually we feed about three hundred families and the goal this year is twenty thousand and sixteen cans," Stone said.
The Key Club does not give the cans to the same families every year, but it is always given to students and families of Washington Township.
"We do not donate the canned goods to an organization, but instead, distribute them ourselves to NC families. We work with the Township social workers, and NC guidance counselors and other personnel who help us identify Washington Township families who will benefit from the opportunity, starting with families with NC students," Elder said.  
"It's always Washington Township families, but it's not necessarily the same families. There's a teacher here that provides names of families that need assistance and then we notify them that they are qualified to come and pick up their cans," Stone said.