Boys lacrosse growing into an established program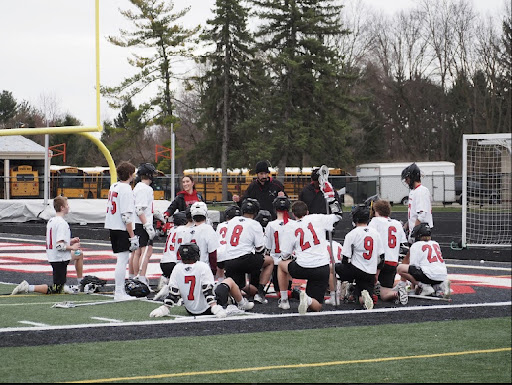 Lacrosse is the fastest-growing sport in the country, according to US Lacrosse. There were nearly 100 high school teams in Indiana last year. The way kids start lacrosse is not like some other sports where it's generational. Most of the people that start playing the sport start playing lacrosse out of pure curiosity.
Lacrosse in the state of Indiana was just approved by the IHSAA as an official high school sport in 2022. Before, lacrosse in Indiana was just a club sport, leaving many people wondering when it was going to be approved as an official school sport.
Many players are very new to lacrosse and began playing in high school. Junior John Churchman just started playing a sport a few years ago. Junior Spencer Hamilton was named the defensive captain for the Panthers despite just picking up the sport two years ago.
"It's nice that lacrosse is getting some recognition in Indiana, I feel like the sport is growing pretty fast around here. I'm glad that it is not just a club sport anymore," Hamilton said
"I think that lacrosse getting approved by the IHSAA will help the sport keep growing and become more popular," Churchman said.
The Panthers this year will be coached by Ed Krulewitch, Eric Ammirati and Phillip Bates.
The Panthers team is a very young squad and are looking forward to getting their season started. Compared to last year, some of the Panthers feel good about how this year will turn out.
"We have some great young players at North Central that get skipped over because we are not as established as a program. That being said, I believe that with a successful season this year, we can really make a name for North Central lacrosse and have a great season next year as these younger guys get bigger and hopefully more people come out and play," Hamilton said.
"I think we will be a lot stronger than we were last year, with all the young players we got, we will be a really good, strong team," Churchman said. 
Inside the younger core of players, sophomore Aidan Muncy (injured last season), will try to lead the Panthers in the right direction this year as one of the main guys on the field. 
The Panthers started their season on March 11 against Brownsburg, and are ready to get their season going.