Girls swim season comes to an end
As the girls swim season comes to an end, junior Madelyn Harvey shares her opinion on their successful season this year. Harvey has been swimming for 10 years and swims at NC and Riviera Swim Club.
"Next season, I want to win all of my sectional events and improve my times," Harvey said.
Last year, Harvey swam the 100 freestyle in 54.04 seconds and the 200 freestyle in 1:58.13. This year, she improved her 100 Freestyle to 53.77 seconds. She also swam the 100 backstroke in 1:01.10.
"I am also looking forward to being with the team and winning the MIC and county championships," Harvey said.
Harvey enjoys the unity aspect of the Panther swim team, and she hopes to be a leader and maintain that same mentality.
"The highlight of the season was definitely winning sectionals and making it to finals at state," Harvey said.
The Panthers placed 19th overall at state. Diver Adelyn Flessner placed fifth in her event. Flessner has been diving for a year and a half.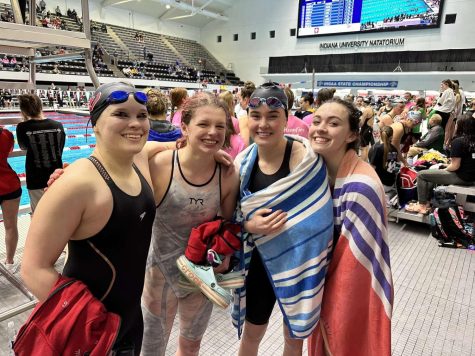 "Getting fifth at state was pretty exciting, but celebrating with my team was great," Flessner said.
The freshman accomplished a lot this season, so her next three years at NC will be something to look forward to.
"Next season, I am looking forward to competing with new teammates," Flessner said.