Marott Park is a great place for quick hikes
A popular and small park near the Broad Ripple area in Indianapolis is Marott Park. Marott Park is located at 7350 N College Ave. I grew up going to Marott Park for summer camp from first-fifth grade and it was always a good place to go for a walk.
This past Sunday, I went to Marott Park around 4 p.m. It was pretty crowded with many people walking their dogs and playing in the creek. The park has many trails that intersect and lead up to one open field near the parking lot. 
The Indy Park is open from dawn to dusk. All animals must be on a leash, but many people didn't listen and they let their dogs free to cool off in the creek. Near the parking lot, there were trash cans, but no bathrooms or port-a-potties which was okay for me but sometimes it can be annoying if you have to go to the bathroom.
I went with my dad and we walked down the trails down to the creek. The trails were very open and easy to walk on, but there were some that were a little more difficult as we were walking down a hill. It was very pretty with the sunlight shining through the trees onto the trails, which was better than the darkness at Holliday Park.
After five minutes of walking, we made it down to Williams Creek. The creek was pretty shallow and a good temperature, which allowed for people to cool off in the 80 degrees sunny weather. There were a lot of people near the creek, playing with their kids and dogs. 
After continuing on the path, we ended up back at the field in the center. The field is an open area of grass with few trees that allows for a lot of sunlight to come through. There are a few picnic tables under trees and a separate pavilion with tables for shade. There were lots of people at tables reading and eating.
Overall, Marott Park was a great place to walk around, especially for a quick break from homework. I continue to love going to Marott Park for a great outdoor adventure in central Indy.
Holliday Park provides simple, family-friendly scenery – September 19
Indianapolis is full of trails for walking, hiking and running. One popular destination in northern Indy is Holliday Park. Holliday Park is located at 6363 Spring Mill Road. The park was full of kids playing, people taking their dogs on a walk, photoshoots and hikers searching for a great walking trail. 
I went to Holliday Park this past holiday weekend around sunset with my mom. The park has eight intersecting trails that start in the central field and connect to the White River. I started on trail two and was led to trail one where I saw the river. 
Most of the trails lead to the river, which was a great place to take a break. It was fun to feel the water and cool off, but nothing was too interesting about the river.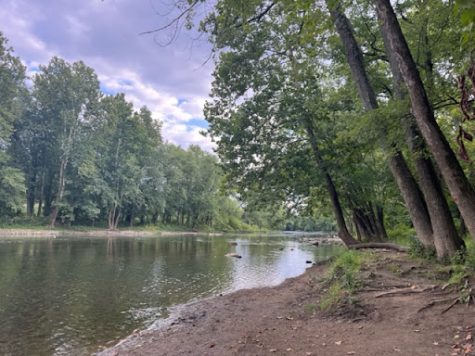 The trail was quick and fun to hike but there wasn't the best scenery. There were mostly lots of trees and different plants, but there was also a lot of darkness and dead plants which didn't make the walk very exciting. 
It was a simple trail down to the river without many hard aspects of the walk or hiking through plants, so it is a good trail for all ages. The intersecting trails make it easy to decide how long you want to walk and where you want to go, depending on the park maps throughout the park.
Besides the trails, there was also a central field in the park full of park benches, sidewalks, open grass, a playground and ruins that are great for taking pictures. 
I love going to Holliday Park. I have gone there ever since I was young and it is always a great place to go on a walk and spend time outside.