Club Sport Spotlight: Horseback Riding
Sophomore Amelia Denault has been horseback riding for almost ten years. She rides at the Kolowa Equestrian Center on the Central Indiana Team for IEA and has won multiple competitions. 
"I go to five competitions to qualify for regionals, and then in summer I'll usually do at least one other show," Denault said. 
The bond between horse and rider is a significant part of being successful in horseback riding but because Amelia does not own a horse herself, she must learn to adapt to the horse she will ride in competition.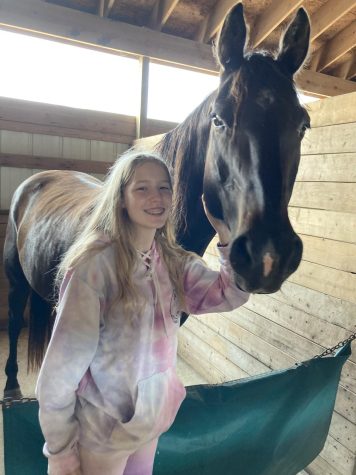 "I will usually say hi, read a little summary on how to ride the horse, and in jumping, I do two warm-up jumps," Denault said. 
Judging in competitions is usually based on the rider's skill level and how well they can adapt to the horse. 
"I do hunter jumpers, so I'm usually judged on my equitation, how I look when I go over jumps and do the flatwork, and in IEA, it's how well I adapt to a horse I've likely never ridden," Denault said. 
In the future, Amelia hopes to use her knowledge of the sport to become a riding coach.