A Craving for TeeJay's Sweet Tooth
Ice cream is one of those desserts that always seems to satisfy your needs. It comes in a variety of sizes and shapes with many delicious flavors. Not only can you choose from various toppings, you can also pick out what container to put your ice cream in. Whether it's a bowl, cup, pan or edible cone there are many ways to spice up how you serve ice cream. TeeJay's Sweet Tooth at 8660 Purdue Road, Indianapolis, IN works to reinvent how ice cream should be served.
TeeJay's menu is chock full of sweets and treats, from donuts, brownies, sundaes, shakes and, of course, ice cream. What makes TeeJay's so special is how they incorporate various desserts and combine them together into one. 
Take for example some of their specialty items. The Donut Ice Cream Sandwich includes a warm glazed donut, 2 scoops of ice cream and a topping of your choice. Another specialty item is the Fruity Pebble Treat which has a Rice Krispies treat and scoops of ice cream. Each item on their menu is properly pieced together with various desserts and toppings. It's almost a make-your-own menu. 
TeeJay's puts a lot of thought and care into their presentation so that it looks like a work of art.
One of the problems that I found about TeeJay's is the fact that they are only drive-throughs at the moment. Not being able to enter the ice cream shop ruins some of the personal aspects of picking out ice cream flavors and toppings. I hope they will open indoor dining soon so people can sit down and enjoy some desserts.
The customer service at the window was relatively fast for an ice cream parlor. Ice cream machines can be difficult to manage and going through the drive-through quickly is pretty nice. However, I can see how a lot can go wrong on a hot summer day with a lot of cars waiting in a long line.
Overall TeeJay's has well-priced menu items, ranging from around $3 to $8 depending on how complex the menu item is to make. It won't be too much more expensive than your average Dairy Queen.
I chose the milkshake with an edible rim, a specialty item. There are also various milkshakes with different flavors, but I chose the one advertised on their website: the Oreo Milkshake.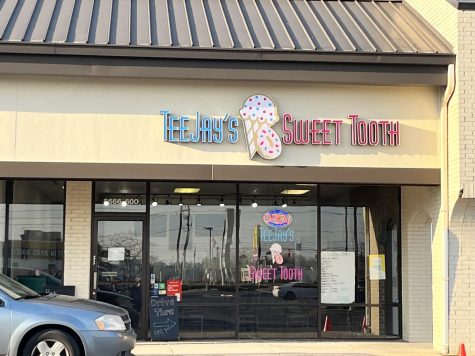 When the Oreo Milkshake was presented to me I was in awe; it looked the exact same as the image displayed on their website. With a high rise of whipped cream and an Oreo placed on top it looked creamy and chocolatey. What made the presentation stand out was the edible rim. It was a black exterior of cookie dust.
Additionally, the taste was phenomenal. From the milky smooth ice cream to the cookie chunks in the middle, it truly had the perfect texture of a milkshake. The edible cookie rim was truly an added bonus that made the milkshake fun to drink. At the end of my shake my belly was full and I felt replenished. It had the unique flavors of a perfect milkshake.
Apart from no indoor seating TeeJay's is truly one of the best ice cream parlors in town. From its unique menu items to its wacky dessert combinations, it definitely stands out from the other ice cream venues around.
Rating: 9.5/10