Hidden gem Taziki's Mediterranean Cafe
It can sometimes be difficult venturing out and trying new foods. Many people are picky eaters and feel the need to stay within their own boundaries. When it comes to foreign food, there are many options that can make it tough finding the right place to eat. There is one place in particular that strives to provide affordable Greek food and that's Taziki's Mediterranean Cafe.
Greek food is not as popular in American culture as Italian, Chinese or Mexican food are. There may not be many options and the food may seem remote to some people. When it comes to Taziki's Mediterranean Cafe at 4025 E 82nd St. Suite 101 they look to bring a healthy twist to Greek food. 
When you enter Taziki's you are greeted with an open area full of booths and tables. A counter is off to the side where you can order food and sit down wherever you would like. You can browse a menu on a stand before you place your order. 
Tazikis has a modern take on Mediterranean Cafes in Greece, so the walls are a bright white with paneling across the ceiling. Plants and pictures of nature are mounted on the wall to create a nice, warm aesthetic. Overall the wide open feel makes it a nice place to enjoy a meal.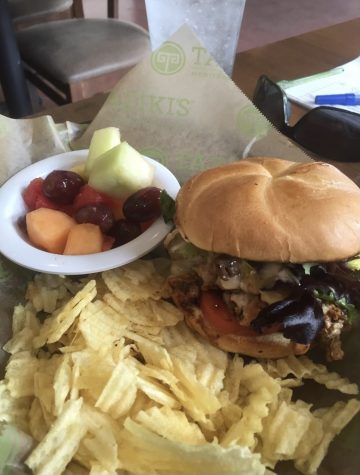 You are greeted at the door with a health-focused Greek menu. Its main draw are the salads, sandwiches, fish and gyros. Each item comes with a protein such as beef or chicken. You are also allowed to choose your own sides such as rice, fresh fruit, potatoes and pasta salad. Each of these side options are healthy and low calorie.
What's also very helpful is they provide numerous vegan and vegetarian options for most of the items on their menu. Greek food focuses on fresh fruits and vegetables to create a well balanced diet.
I chose to try the grilled beef, a sandwich with beef, onions, cheese and horseradish. The side item that I chose was the fresh fruit. Lastly the grilled beef sandwich came with freshly cooked chips.
One main drawback was the service, getting food was a bit slow. You can tell there's a lot of time taken in creating healthier food items but the service is a bit slow for anyone's liking. Definitely not a restaurant to visit on a busy day.
Once the food had finally arrived I delved into the sandwich. Overall it was a nice taste. The bun had a different flavor which made the sandwich a bit tangy. The beef, cheese and onions complemented each other well and the horseradish spiced up the sandwich. Definitely not your average taste you're used to when trying these sorts of flavors. The meat was well balanced and tender and definitely was the highlight of the sandwich.
The fruit on the other hand was very delicate and juicy. A mix of kiwi, cantaloupe, watermelon and grapes were all fresh. The fruit was a nice balance compared to the sandwich. Lastly the chips were a great way to add a nice salty crunch to the meal.
Taziki's Mediterranean Cafe is a great way to expand your food palate and try something new.
Rating:8/10