Musical opens this weekend
With auditorium closed, Northview hosts show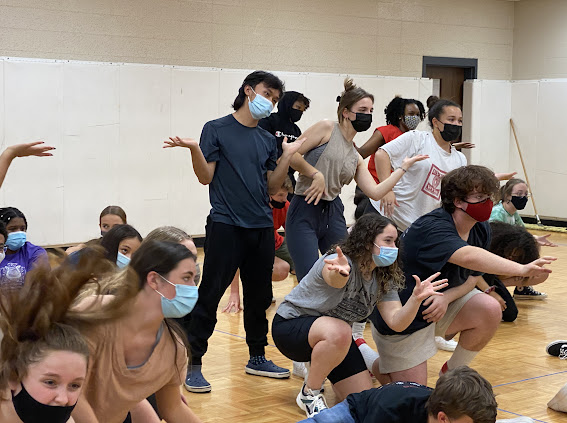 The theater program is presenting "Mamma Mia!" for the fall musical. The musical is about a girl, Sophie, who is getting ready to get married and her mother, Donna. Sophie invites three men who could potentially be her father to her wedding. She believes she will be able to find out who her real father is and have him walk her down the aisle. 
Joe King, the theater teacher and director of the musical, has had to face challenges as the auditorium remains under construction. 
"We don't have a consistent place to rehearse, so we have to float around," King said. 
Rehearsal spaces include the performing arts classroom, the Northview auditorium and King's classroom. They often have to share spaces with other performing arts groups. 
Another challenge that comes with the construction is adapting to a different auditorium. The Northview auditorium is smaller and more outdated than the one at North Central. 
This means the equipment the tech crew uses either required replacements, requiring extra funding and grants, or extra time to get used to. The Northview auditorium seats 892, while North Central's seats 1,450. 
More than 60 students will take the stage as part of the production. The crew is more than 50, making this a large-scale event featuring dozens of students.
Despite the difficulties of using a different auditorium, the cast has worked hard for opening night. Many roles have stayed for multiple hours every day after school. 
Senior Sawyer Husain was given the lead male role, Sam Carmichael. Husain auditioned for the play after losing a bet. If the NCHSLive! Instagram page reached 1,000 followers by a certain period of time, the editors would try out for the musical. Husain kept his promise and ended up with the lead role.
Husain does not have any prior theater experience, and some parts of the experience surprised him. 
"Definitely how big of a time commitment it is and how difficult it is," Husain said. 
Husain also did not know how much he would enjoy it, as he has made new friends and has a newfound respect for the theater group. 
Actors will return to a somewhat more normal experience on stage as it has been approved that they don't need to be masked while on stage.
"Mamma Mia!" hits the stage beginning this Thursday, with another show on Friday and two on Saturday.