The significance of the student section
When playing a sport, an important part of a team's success is the people who are there to support them. Student sections might be the biggest supporters there are. Seeing a big part of your student body cheer you on when you are working hard at something is a big motivator and can sometimes change the outcome of a game. 
When seeing a student section there cheering for you it can mean a lot to certain players.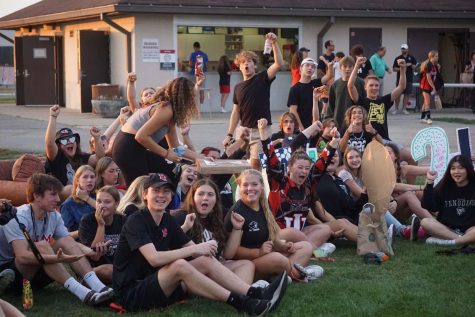 "It makes me feel great to see people out there cheering for me and wanting me to win," Senior Nia Person said. 
When going into a game where there is a rival or a tough opponent, having the student section can change how players feel. 
"The student section makes games more exciting and lively. They show the spirit of NC and with a student section, you'll always have a good time and be in a great atmosphere," Person said.
When a game goes in the opposite direction of what you want it is important to have people there to pick you up.
 "I think it depends on the player and how everyone individually reacts to the student section. Some athletes get nervous, building off the student section's energy and how encouraging they can be," Person said. 
Hearing people cheer can feel like a second win has come and makes one want to play as hard as possible.
"It does encourage me to play harder, I love hearing people cheer for me. It gives me a boost because I don't want to let them down and I am playing for just more than me and my team." Person said. 
The student section seems to be something that everyone loves and supports no matter what event it is. 
"I love when they get loud, get mad at the refs, hype one of our players up if they have the ball and make fun of the other team," Person said. 
In some cases a student section can intimidate or get into the other team's head and ultimately help the team win.
"I don't think they help win games, but they definitely help their team play extremely well and keep the energy going in a game. There's less tension and energy in the crowd without the student section. That's why we play away games too," Person said. 
Every school has a student section and they play a role in the team's success, most of the time. Seeing your friends and classmates wanting you to succeed at what you work so hard at, can give players an extra push or motivation they need to come through and win as a team.