Girls soccer player manages athletics and academics during pandemic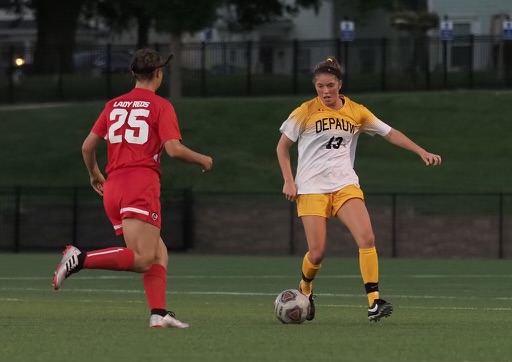 Allison Harvey is a junior at Depauw and plays on the women's soccer team. She graduated from NC in 2018. She chose to play at Depauw because it helped her make sure academics would come first and would challenge her to be the best person she could be.
Q: What is something you did at NC that you have carried to the next level to be successful?
A: Definitely being part of soccer. I learned how to manage my time, be a good teammate and was surrounded by other women striving for success on and off the field. The coaches were great mentors and my teammates were and still are sisters to me for life.
Q: What made you decide to pursue a college career in soccer? 
A: I knew I loved soccer and wanted to continue to be challenged by the sport mentally and physically. I also knew I wanted to be part of something bigger than myself. I believed that playing soccer at the collegiate level would push me to grow in so many different areas of my life.
Q: How has college soccer changed during COVID vs. how it was your first two years at Depauw?
A: COVID has definitely changed everything. My first two years with DPWS were amazing and hard at the same time. I think the program, girls and my coaches have shaped me into the person I am today. I have learned so many life lessons from the game itself and being a part of the high standard our team has held me accountable in my academics and social life. Although COVID has brought our team challenges both on and off the field, I believe that together, we can do hard things. We take adversity and face it head on. I think that's why at the end of the day I am so pumped to have another year of soccer left. Due to the pandemic we are in now, we are going hard, and it is only making us stronger. It is hard for us to all hang out and we are each making different sacrifices of our own for the good of the team to have a season. It is hard but we do it for one another because we are a family.
Q: What was your favorite class at NC and why?
A: My favorite class would have to be WHAP with Mr. Tallman. Till this day I have not taken a harder class than that. He pushed me in so many different areas from writing, reading and work ethic; the list goes on. I am so grateful for that class and getting to have him as a teacher. He prepared me for the college level way back as a freshman at NC.
Q: How do you balance academics and athletics?
A: Soccer helps me with my time management so much. It's crazy. I will never forget our first away trip and I was thinking we would be watching movies and chilling. Then I looked around and everyone around me was studying on the bus. Our team holds each other accountable to be the best we can academically. As teammates, we help read each other's papers, quiz one another or just study together. Practice and games also help me with time management because it forces me to stay locked in and get things done effectively and efficiently.
Q: What do you do to keep improving as your college career goes on?
A: Lifting and running is what I do to continue to improve most. Being in the best shape I can lets me play the game at the highest level possible without hitting fatigue. In addition to this, I watch film to help me visualize what can be better to execute on game day. Reading in my free time is another factor that has helped my mental side of the game. Back in high school I never did this, and never would have thought I would in the future, but it has been such an asset to my mental side of soccer as well as performance physically. Whether it is a motivational book by Kobe, a self-help book or being more in God's word, I have found that it strongly has an impact on the way I perform.
Q: What's the biggest difference between high school and college soccer ?
A: Definitely the physicality aspect. Girls are stronger and faster. It's a totally different game. Much more fast paced and a lot more physical.