Staff Meg Newman's self opinion and predictions on girls season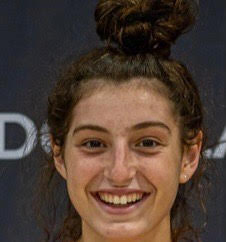 The girl's basketball season is off to a rolling start so far. We are undefeated, with both wins happening over top 15 teams in the state. As a player on this team, I can say with complete confidence I love the direction we are headed in. I am ecstatic and honored to be a part of this team.
This year obviously brings a new set of challenges. It's an unprecedented time and we all find ourselves in unique situations. But nonetheless, I could not be prouder with how we have persevered and made sacrifices for one another so our team can continue to compete. Through this time, we have all recognized what it means to work for one another and I can truly sense the gratitude my teammates and I have for learning such a valuable lesson.
During our Westfield game, we got off to a slow start. We struggled to find some continuity in our offense and our energy was flat. However, we erupted in the second quarter and went into halftime with a ten point lead. We continued to build on this lead in the second half and won the game by a 30 point margin. Four players scored in double digits and I was thrilled about the result. We were able to click in the first game of the season and because of this, it was both a huge physical and moral victory for our team.
Against Brownsburg, we started off on fire. A 19-0 run brought by some impeccable defense and ball-sharing had us all excited. This fiery start did not continue throughout the game unfortunately as we got the looks we wanted, but struggled to finish. Despite this, we got a hard fought win against a very good, title-contending team. This game really revealed what we are capable of as a unit. A collapsing, unstoppable defensive unit with shot-makers everywhere. Even though we struggled to keep this energy up through all four quarters, we got a crucial win and a peek at our true potential as a team. 
As a unit, we are all pumped for the future of this team. The sky is truly the limit this year. And as we work to beat out the inconsistency that was our achilles heel in years prior, we each continue to grow as individuals. This is a team with goals to win a state championship and eventually go down as one of the best teams in high school basketball's history. As we continue to play for each other with the school on our jerseys, those goals will hopefully become a reality.