Students Prepare for Blood Drive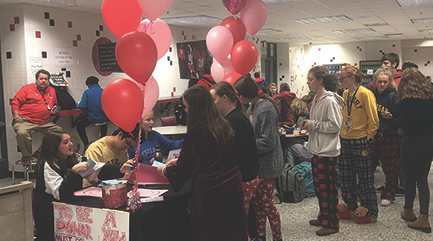 Every year students are given the opportunity to donate a pint of blood to help local Indianapolis hospitals. The blood drive will be held on Thursday, Feb. 14, 2019 and will take place during the school day in the main gym.
Although there are some requirements that need to be met before you give blood. Any student who wants to participate in the blood drive must be 16 years of age, at least 110 pounds and must be healthy. These standards are necessary to ensure that the blood drive goes smoothly.
On the day of the blood drive be sure to stay hydrated and eat a healthy meal before you donate. A student ID as well as your permission slip is required to donate too.
Donating will cause students to miss approximately 40 minutes of class so be prepared to have make-up work. It is possible to experience symptoms like lightheadedness and queasiness. After a donation students will be allowed time to relax and rehydrate.
Donating blood is a selfless act that takes less than an hour to complete. Donate now and save three lives.