Panthers Kitchen: Pita Wrap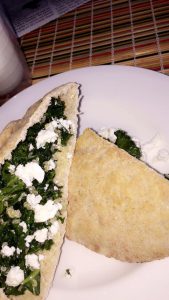 Ingredients:
2tsp olive oil
1 tsp apple cider vinegar
Pinch of cumin
Salt
Pepper
1 ½ cup canned white beans, rinsed, and drained
¾ cup Quinoa
1 whole-wheat pita bread or wrap
1 oz soft goat cheese, crumbled
1 tbsp hummus
Directions:
In a bowl, whisk together oil, vinegar, cumin, salt, and pepper.
Add kale and massage the dressing into the kale with hands until the leaves start to soften.
Add beans and mash the beans into the kale with both hands.
Arrange the kale and bean mixture in the center of the tortilla.
Top with goat cheese and hummus.
Wrap tightly.