Rachel Gregory continues basketball career in Spain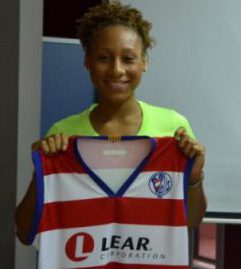 North Central alum Rachel Gregory was signed by CB Valls, a professional women's basketball team in Spain.
Gregory was on the state winning girl's basketball team in 2012. She played alongside many great players who pushed her to become a better player, ultimately helping her become an Indiana All Star her senior year and becoming a professional athlete.
"Playing with Nariah and Celeste was great because they made our team great. We had several girls on our team that were college caliber players, and so it made everybody better when we practiced against each other," Gregory said.
Many high schools athletes dream of the day their hard work will earn them a state title. Gregory and her teammates were some of those lucky athletes who were able to achieve this dream.
" Winning state and being an all star was such a surreal experience. Thousands of girls across Indiana work to have those opportunities every year, and to be apart of that legacy was validation of all the hard work we put in day after day," Gregory said.
Gregory committed to the University of Buffalo after having an outstanding freshman and sophomore year she decided to transfer schools. Gregory ended up at Coastal Carolina University.
" College was a great experience. Being a college athlete definitely taught me how to manage my time, the value of leadership and teamwork, and the importance of details."
The road to becoming a professional athlete can be difficult, she had to overcome a lot of obstacles. Injury is an athlete's worst nightmare, throughout her college career Gregory suffered from multiple injuries, not allowing them to hold her back pushed her to become a better player.
"Overcoming 3 season ending surgeries was the toughest part of college for me. Luckily, my family helped me through it by keeping me positive, and I did extra rehab at home to make sure that I came back prepared and stronger."
Just like any other athlete, her preparation helped her when it was time to become a professional athlete. She was able to show her talent in combines, which allows athletes to show off their skills and also undergo a series of test such as the vertical jump test.
"I actually didn't get drafted. I went to several combines. 2 in March and 1 in July. I worked with a placement agency and they sent my film and info to CB Valls and they liked what they saw. So they signed me!"
Gregory will be continuing her athletic career in Valls, Spain and her team plays in Liga EBA, which is the fourth tier of Spanish basketball. She is also the only athlete from the 2012 state winning team to become a professional athlete.
"I'm most excited to continue playing the game that i love and experience the Spanish culture. It will be my first time there, but I've heard it's a beautiful place to be."
Gregory's season opener for the CB Valls is September 17 against Lluisos de Gracia at 6pm Spain time which is noon Indiana time .
"For future players, I'd have to say work hard no matter what. And most importantly, enjoy the process because there are so many people wishing that they were in your shoes."