Therapy dogs help students cope
Recently, therapy dogs have resumed their visits to the school to provide comfort and support to students. Historically, the dogs would come in once a month with their owners. Originally, they visited after school hours, then transitioned to visiting during lunch periods. Love on a Leash, the program associated with the therapy dogs, began coming to the school in 2018 to offer emotional support for students. These dogs are therapy dogs, which differs from service dogs. Therapy dogs are trained to offer support for anybody, while service dogs are trained to assist one specific person.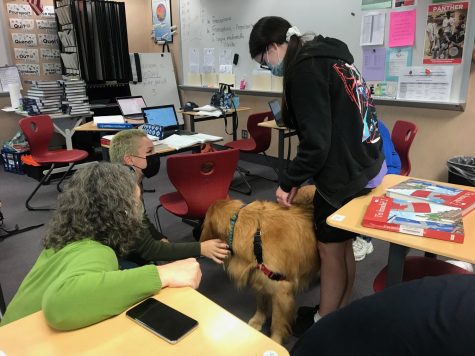 Love on a Leash is a nationally recognized program in which people with any pet can voluntarily join. Although dogs are most commonly seen, any animal that completes the necessary training can become a therapy pet. These animals can travel to numerous locations such as schools, prisons, nursing homes
Guidance counselor Julie Shannon expresses the importance of these dogs in a student's life.
"Dogs have a way of comforting students in a way that's different from the student talking about things," Shannon said. Therapy dogs commonly have solid positive and immediate effects on people with conflicts or high stress.
"I've seen situations where a student has pet a dog and started crying," said Shannon.
This year has been a challenge for the program to consistently bring in dogs because of certain restrictions from COVID-19 guidelines. Teachers now have to sign up for 10 minute time slots to have the dogs visit, rather than dismissing students from lunch to visit with the dogs. This year the dogs will visit on Tuesdays in the morning time slot and Thursday in the afternoon time slot.