Students begin college application process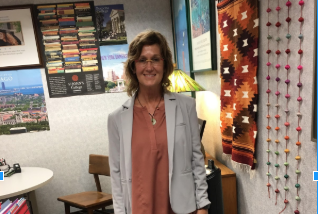 In the fall semester, the pressure of applying to college plagues seniors with stress on what to say on applications and even how to apply to a school in general. The Common Application is a tool that isn't just mandatory for applying to a school, it guides students step by step along the way to their future in college. The application opened Aug 1 and is free to fill out. However most schools require a small fee in order to apply, usually ranging from 25 to 100 dollars.
The Common Application consist of a student inputting their personal information, test scores, academic history and a short essay with a set of prompts provided. Here at NC our guidance department has a specialized counselor that aids students in their application process.  Carroll Easterday has stepped into the role after Suzi Bremmen stepped down at the end of last year. Easterday, who was formerly working at NC, has come back to help students apply and most importantly get accepted to college.
Easterday discussed the Common Application in detail and its importance in the application process.
"The point of the Common Application is being able to apply to a wide variety of colleges without making students write out each college's individual application," Easterday said.
The simplicity of the Common Application helps students along the process of filling the application in, but it is up to the motivation of the student to finish the application.
"Most students struggle in being organized with the application process and forgetting about supplemental essays for individual schools," Easterday said.
Finally, Easterday offered advice to seniors in their application process.
"Take ownership and organize yourself with tools like a spreadsheet or checklist," Easterday said.
The Common Application is officially open and free for students to complete. Students must do their own research in order to figure out the deadlines for their potential colleges' application due dates.
Zeke Skulski, Gus Siegel and Michael Grueninger