MYP Personal Project Preview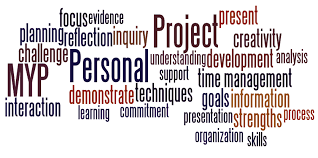 Last fall, the sophomore class started on a school-wide International Baccalaureate MYP project known as the Personal Project. After an almost eight month process of work and meetings for the project, students are just about ready to display their work to the rest of the school.
For those who don't know, the Personal Project is a student-driven journey that involves investigating, planning, creating and reflecting upon a product of the student's choice. The topic of each project can be totally unique as each one is completely designed by the student. This allows students to express their individual interests and explore subjects that they want to personally learn about.
Each student is assigned a mentor from the staff to help them with any resources or ideas that they may need in order to pursue their topic. Each sophomore was scheduled to meet with their mentor four times periodically throughout the year in order to check-in and receive help in their process of developing their project. Now that the scheduled meetings have concluded, the exhibition will be a great opportunity to display their hard work to other students, teachers, and family members.
At the exhibition students will show off a wide variety of products: posters, videos, models, presentations and many others. Since the project is completely student driven, it is tough to say exactly what types of products will be present. However, with as much freedom that was given in the process of this project, there will definitely be an interesting coalition of presentations.
Participants will have a chance to present their work on Thursday, April 27 from 4-6 p.m. in the school information center at the Personal Project Exhibition.